Calcium Silicate Board is manufactured from a mixture of portland cement, fine silica, special cellulose fibers and selected fillers to impart durability, toughness, fire and moisture resistance.
Calcium Silicate Board does not contain any soluble ingredients or free alkali which could be dissolved by moisture or condensation and causing unsightly marks. If exposed to moisture, the board will completely recover on drying out, with no permanent loss of strength.
Calcium Silicate Sheet is specially designed for applications which impact resistance, fireproof, waterproof, sound adsorption and heat isolation are required, products are suitable in a high humid environment. have been supplying to Singapore, Malaysia, UK, India, UAE, Italy and etc with best prices and cost.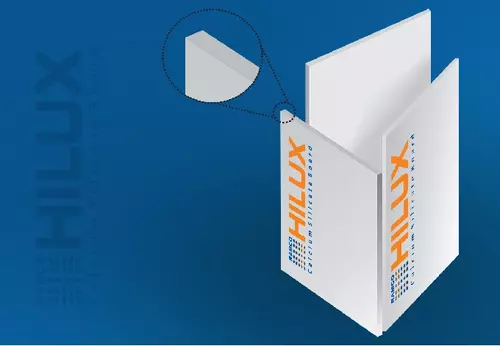 Hilux Calcium Silicate Board
Hilux Calcium Silicate Board is made of calcareous and siliceous materials, reinforced with fibres. It is cured under high pressure steam and temperature to provide a stable, strong crystalline structure.
Hilux Calcium Silicate Board is a top-notch, contemporary building material manufactured in Ramco's two state-of–art plants in the country using the revolutionary HPSC technology, ensuring quality, durability and consistency.
Technical Specifications
Material
Calcium Silicate
Application
False Ceilings / Partitions
Features
Fire Resistant / Moisture Resistant / Impact Resistant
Design Pattern
Plain
Brand
Ramco Hilux
Thickness (mm)
6 / 8 / 10 / 12 / 16
Size (ft)
4 x 4 / 4 x 6 / 4 x 8
Dimensions (mm)
1220 x 1220 x 6/8/10/12/16 | 1220 x 1830 x 6/8/10/12/16 | 1220 x 2440 x 6/8/10/12/16
Edge Profile
Square