IMPACT RESISTANT
PLASTERBOARDS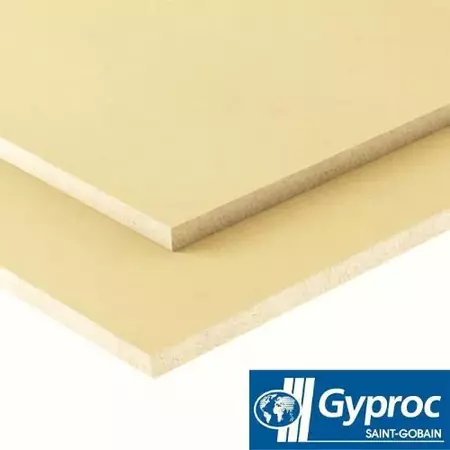 Gyproc DURALINE Plasterboard
Gyproc Duraline Board is Gypsum based product for interior Wall applications used in High Impact Resistant systems to provide more durable surface for Walls & Partitions. 13mm Gyproc Duraline Board's gypsum core incorporates glass fibers which are encased & firmly bonded to strong mustard yellow coloured paper liners.
Designed for walls exposed to Heavy material & equipment movement, Human interactions, subjected to bangs, wear & tear, accidental impacts & crowd pressure.
Technical Specifications
Material
Gypsum
Manufacturing Standards
Gyproc
Brand
Gyproc by Saint Gobain
Thickness
13 mm
Size (ft)
4 x 8
Dimensions (mm)
1219 x 2438 x 13
Edge Profile
Square / Tapered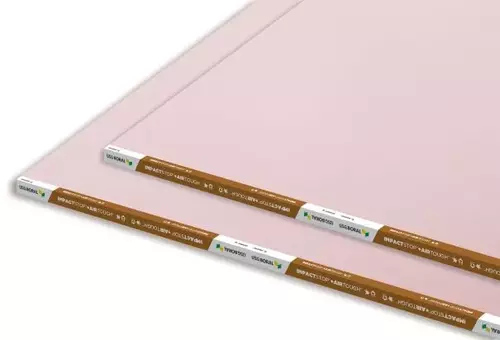 USG Boral IMPACBOARD Plasterboard
Powered to provide exceptional amount of strength, sound insulation and fire resistance to partitions, USG BORAL IMPACBOARD is a specially carved gypsum board that is corrosion resistant and offers longer support. Extensively suited to high traffic areas where partitions are prone to damage, it tends to offer combined support of strength, sound insulation and fire resistance. Its quality is expressive of providing exclusive assistance to maintenance of walls and ceilings.
Formulated for resistance to abrasion, scraping and rubbing, USG BORAL IMPACBOARD is a masterpiece that reduces damage and maintenance cost.
Technical Specifications
Material
Gypsum
Manufacturing Standards
USG Boral
Thickness
12.5 mm
Size (ft)
4 x 6
Dimensions (mm)
1220 x 1830 x 12.5
Edge Profile
Tapered