PVC panels can be used for covering interior walls, ceilings of rooms, offices, basements and especially in bedrooms, bathrooms and kitchens.
Available in vibrant colors, rare textures and shades, this range suits any decor either indoor or outdoor. This range is completely light in weight and completely termite resistant.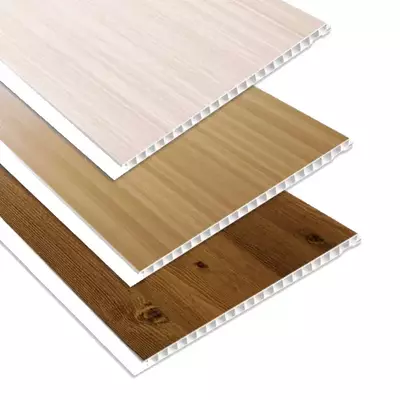 Designer PVC Wall & Ceiling Panel
One can avail from us a quality approved assortment of  Royal Wooden Textured PVC Panel series.  Owing to their top quality, our products are extremely praised amongst the patrons.
Technical Specifications
Panel Material
Polyvinyl Chloride (PVC)
Application Area
Ceiling & Interior Walls
Design Pattern
Wooden Textured
Thickness (mm)
6 / 7 / 8
Length
10 ft
Width
10" / 1 ft
Dimensions (mm)
3050 x 250 x 6/7 | 3050 x 300 x 6/7/8